Siempre, al llegar estas fechas suelo ver con mis alumnos y alumnas esta obra maestra de la animación: "La leyenda de Sleepy Hollow" de Disney. No nos cansamos de disfrutar con las aventuras de Ichabot, ese maestro de una escuela rural, con el que por cierto, me siento bastante identificado.
Gracias por vuestra visita y os deseo un HAPPY HALLOWEEN!!!
Halloween is here!!! Get ready to enjoy this festivity with us. Enjoy the activities below and...beware of the creatures!!!
Check the videos created by our school: Colegio Público Rural "Almazara" in Jubrique and Genalguacil. This is how we live Halloween in our school.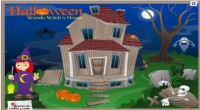 Enter Wanda's house and learn about Halloween. English vocabulary, Halloween history and tradition...
HALLOWEEN ACTIVITIES: Pictures, flashcards, games...
| | |
| --- | --- |
| Halloween | Noche de Brujas |
| bat | murciélago |
| black cat | gato negro |
| candy | caramelos |
| cobweb | telaraña |
| costume | disfraz |
| devil | diablo |
| ghost | fantasma |
| haunted house | casa embrujada |
| magic | magia |
| monster | monstruo |
| mummy | momia |
| pumpkin | calabaza |
| skeleton | esqueleto |
| spell | hechizo |
| spider | araña |
| vampire | vampiro |
| witch | bruja |
| wizard | brujo, mago |
It's celebrated on October 31st. When the Celts lived in Ireland, Britain and France over 2,000 years ago, they had a pagan agricultural festival on this day. They believed that the dead came back, so they used to light large bonfires to ward off evil spirits. Irish, Scots and other immigrants brought this tradition to North America in the 19th century.


The word "Halloween" is a shortened form of "All Hallows' Eve", meaning the evening before "All Hallows' Day" or "All Saints' Day", which is November 1st.


In the past, poor people went around asking for food in exchange of a prayer for the dead. Nowadays, this tradition was changed. In Ireland and the United States, children dress up and go door-to-door collecting candy. This is called "trick or treat", meaning that if they don't receive candy they will make a trick or a spell.


The carved pumpkin has become the symbol of Halloween. It's called "Jack-o-lantern", from an Irish legend about a man called Jack. He was a lazy farmer, who tricked the devil and refused to free him unless he agreed to never let Jack go into hell. So, Jack started to wander the Earth looking for a resting place, carrying a carved turnip with a candle inside.
EL SECUESTRADOR DE HALLOWEEN
A continuación os dejo con una producción del Ayuntamiento de Genalguacil en la que alumnado de nuestro colegio y.....yo mismo, interpretamos una inquietante historia que tiene lugar una noche de Halloween...
THE HAUNTED HOUSE SONG
KNOCK NOCK TRICK OR TREAT
JUMP, RUN HOWL!!!
FIVE LITTLE PUMPKINS
POCOYO HAPPY HALLOWEEN
POCOYO HALLOWEEN SPECIAL